Biography
 Biography - Dr. Damien Gatinel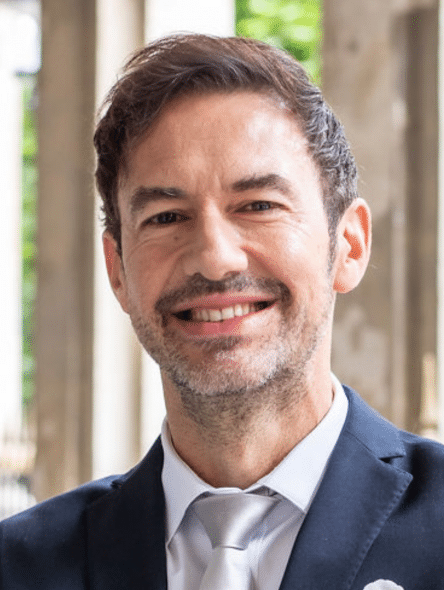 * Current position:
-Head of Service to the Foundation eye a. Rothschild
-Scientific medical director of theLaser Vision Institute (Rothschild Foundation)
-President of the association CÉROC (Center of Expertise and research in optical clinic)
* Medical curriculum:
–      Doctorate of medicine
-Diploma of specialized studies (DES) in ophthalmology
–      Specialization in surgery Refractive and cataract
-Former intern of Ophthalmology hospitals in Paris
-Former Chief of staff at the Faculty of Paris XIII - hospital Avicenne)
-Former practitioner faculty Paris VII - hospital Bichat Claude Bernard hospital
-Diploma of in-depth studies (DEA) in surgical Science (University Paris XI)
-Diploma of the Habilitation research (HDR) (Faculty Paris VII)
* Directions
-Refractive surgery: laser surgery with implant surgery; surgical corrections for myopia, astigmatismhypermetropia, presbyopia, custom corrections
-Cataract surgery: micro incision, implants-rings, multifocal implants
-Ocular anterior segment surgery: Reconstructive Surgery of the cornea (transplants, procedures for therapeutic aiming), repairs of anterior segment, implants sutured to the sclera.
* Clinical research, teaching
Postgraduate in the areas of refractive surgery, ophthalmic optics, corneal topography, the OPD, techniques of multifocal corrections for presbyopia.
PhD thesis in Applied Mathematics (University of Versailles Saint Quentin, 2017)
Collaboration with the Massachusetts Eye and Ear Infirmary (Harvard Medical School: 2000-2006)
Member of the Executive Committee of the International Society of Refractive Surgery (SSRIS)
More than 200 invited papers for Learned Societies between 2001 and 2019
Training and expertise for the industry
Course and teaching at international and national conferences.
Writing books for the medical and surgical training
* Innovations:
-Development and co invention of a method of Multifocal correction of presbyopia taking into account the pupillary game and optical aberrations high degree (US Patent - filed patent)
-Application of a correctino multifocal method for presbyopia: treatment module READ (Alcon Wavelight EX500 Laser)
–Co inventor of Trifocal first implant in cataract surgery (FineVision implant, Physiol laboratories, Belgium)
-Co inventor with the company Carl Zeiss to intraocular lens of adjustable orientation / "reversible" (patent filed - patent US)
- Member of the first start-up dedicated to the realization of a subjective refraction algorithm by artificial intelligence: SIVIEW company 
-Co-author of one new method for automated detection of Keratoconus infra clinical by topography to sweep by slot)SCORE Analyzer: Orbscan)
-Co-author of a automated infra clinical Keratoconus detection algorithm by topography specular)Cornea score: OPD scan)
-Co-inventor of a technique of eye tracking based on the orientation of a smarphone)Toreasy)
* Prizes and awards
20 International awards and prizes