Cristalliniens implants monofocal and multifocal, o-rings
 Cristalliniens implants: General information
The lens implant or prosthesis of artificial lens is intended to replace the lens: it is placed after the withdrawal of the clouded lens (cataract surgery), in the capsular bag, in the 'back room' of the eye (located at the back of the iris). The materials used for the realization of these implants are flexible, with a shape memory allowing their injection through a small corneal incision (see:) cataract surgery in pictures). They are silicone-free and for the most part are derivatives of PMMA (polymethyl methacrylate), whose transparency, lightness and durability properties have been at the origin of his selection for the realization of the first artificial lens implants. Therefore, implants consist of acrylic materials hydrophilic or hydrophobic.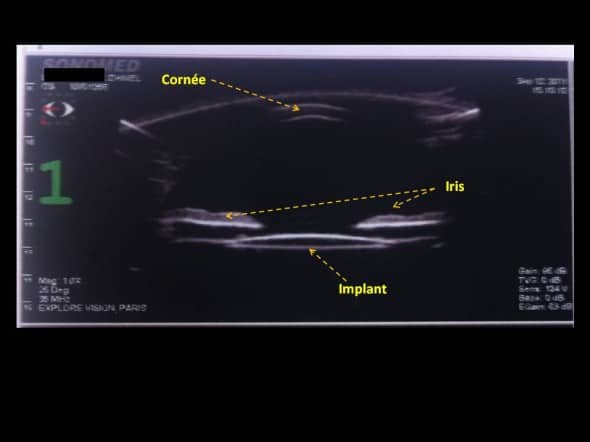 Evolution of pseudophakes implants
Intended to replace the natural lens, the implants called "pseudophakes". received significant innovations over the past five years. These improvements are the fruits of progress in machining and micro technology, biomaterials, and a more comprehensive approach the Visual needs of the cataract surgery.
The goal of surgery of the lens is thus limited to restore the ocular transparency, it also aims to optimize the quality and/or optical performance eye surgery.
Different ranges of implants are today proposed, possibly equipped with filters UV or blue light, etc... Some of these new implants have special properties to provide optical quality comparable to that of a young and transparent crystalline. The accuracy of the correction of Visual defects pre existing cataract as myopia, hyperopia, or astigmatism today increased thanks to advances in echobiometry (ocular biometry) and those of the interferometric measurement techniques of the "optical" axial length These techniques provide a preoperative estimation of the Dioptric power of the implant to be inserted for the refractive target. Provision of low and high power optical implant, or allowing the correction of astigmatism (implants-rings) to expand the range of the defective vision that it is possible to correct during the cataract surgery.
In practice, three types of strategies are mainly offered depending on the Visual and practical needs of the patient.
-The wish to get rid of glasses in vision from afar, even wear a correction for vision closely (or) joined the patient in a "monofocal" correction strategy

-On the other hand, the desire to escape eyeglasses both far and near statement of two approaches:
-fixed "multifocal": It is based on the insertion of multifocal implants (Diffractive bifocal,) Diffractive trifocals(, or refractive). The two eyes receive a multifocal implant.
-fixed by "monovision": It is based on the use of monofocal implant; an eye receives an implant intended for correction of far (usually the dominant eye), the other eye implant for the correction of nearly.
The choice between these different strategies depends on the wishes of the patient, as well as his eye condition (pathologies associated, etc.).

SEE: Implants-rings – Multifocal implants – Monofocal implant
19 responses to "monofocal, multifocal, and toric crystinian implants"