Keratoconus, what's the rub? Cataract and Refractive Surgery Today Eu, April 2017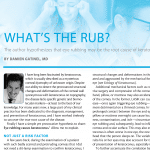 In this paper, Keratoconus What's the rub, D Gatinel, CRST Europe, April 2017, I elaborate on the hypothesis that eye rubbing is the root cause of keratoconus. This is a more succinct report of some previously published material pointing toward eye rubbing as prime hit in the keratoconus affection. In my view, keratoconus is not a dystrophy but a mechanically induced corneal condition equivalent to a « Rubbing Induced Corneal Ectasia » (R.I.C.E).
The genetic or environmental factors involved in the keratoconus genesis are because they promote either ocular friction or less corneal resistance (lesser tissue thickness or resistance).
Download PDF : Keratoconus What's the rub, D Gatinel, CRST Europe, April 2017
3 réponses à "Keratoconus, what's the rub? Cataract and Refractive Surgery Today Eu, April 2017"